Description
"It was a dark and stormy night when the first train roared into Fairhaven Station in 1890. As torrential rain turned muddy streets to rivers of chocolate milk, the townspeople drank and danced at a lavish gala welcoming the railroad. No one imagined that at midnight, when the train left the station, it would roll over the town's most prominent man leaving only his bowler hat floating in a puddle."
The quest to find the murderer and their method begins on Saturday April 29 from 10am-5pm and continues Sunday April 30 from 10am-1pm. Registration begins each day at 9am at the Fairhaven Association HUB in Finnegan's Alley (1106 Harris Ave.). Hear opening remarks about the murder from the Constable at 10:30am Saturday at the Train Station, 401 Harris Ave. Collect clues, question suspects, gather information and make your accusation! The reveal will be at the Village Green at 1:30pm Sunday.
Registration starts 3/1/2023.
Many thanks to our title Sponsor Village Books-Paper Dreams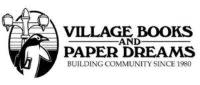 And Thanks to our Clue Sponsors!
Bellingham Coding and Robotics Club
Bellingham Training and Tennis Club
Berkshire Hathaway/Bayside Realty
Firehouse Arts and Events Center
Peter James Photography Gallery
Village Books and Paper Dreams